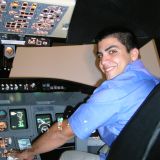 Jawad Sultan
| | |
| --- | --- |
| Member since | |
| Last seen online | |
| Pilot certificate | ATP |
| Language | English (USA) |
Submitted
ATC Audio of Near Crash from Icing with some various Icing Pictures. This is why you never fly in known icing unless 100% qualified for it. (
www.youtube.com
)
More...
Submitted
Irish investigators have praised the airmanship of a Bombardier Learjet 31A pilot whose swift reactions, immediately after lift-off, averted a mid-air collision with a helicopter at Dublin. (
www.flightglobal.com
)
More...
Submitted
US Airways Flight 1549, an Airbus A320 headed from New York's LaGuardia Airport to Charlotte, North Carolina, was down in the river after a failed takeoff, according to the Federal Aviation Administration. (
www.cnn.com
)
More...
Submitted
A three-year-old passenger was sucked out of a Cessna 401 when he accidentally opened the door at 10,000 feet. When pilot Pat Smith looked back, he saw only two small ankles, one clutched by the boy's grandmother. (
flash.aopa.org
)
More...
Submitted
Continental 1079 makes and emergency landing on runway 15L at Houston Intercontinental Airport. Reported needing to make a 200 Knot Approach! (
flightaware.com
)
More...
Submitted
After ditching an Airbus A320 in the Hudson River and famously checking the cabin twice to make sure everyone escaped, Capt. Chesley Sullenberger then followed procedure and called in to the airline's operations center. And the airline almost hung up on him. (
blogs.wsj.com
)
More...
Submitted
A commercial jetliner suffered a loss of one of its two engines shortly after taking off from La Guardia Airport on Wednesday morning and was forced to make an emergency landing at Kennedy International Airport, officials said. American Airlines Flight 309, a Boeing MD-80, bound for Chicago's O'Hare International Airport, landed at Kennedy at 8:35 or 8:36 a.m., after losing a trail of metal parts, evidently from its No. 2 engine, the Federal Aviation Administration said. Some of the metal parts… (
cityroom.blogs.nytimes.com
)
More...
Submitted
A remote-controlled toy aircraft got a little too close for comfort with the real thing last Friday, as it flew close to a Virgin Blue aircraft near Perth airport. The toy airplane, which if ingested would have presumably caused engine damage, had a video camera attached to the nose, meaning the whole remarkable incident was filmed and placed on YouTube, with Top Gun accompaniment. (
www.flightglobal.com
)
More...
This website uses cookies. By using and further navigating this website, you accept this.
Did you know that FlightAware flight tracking is supported by advertising?
You can help us keep FlightAware free by allowing ads from FlightAware.com. We work hard to keep our advertising relevant and unobtrusive to create a great experience. It's quick and easy to
whitelist ads
on FlightAware or please consider our
premium accounts
.